Shopping Cart
Your Cart is Empty
There was an error with PayPal
Click here to try again
Thank you for your business!
You should be receiving an order confirmation from Paypal shortly.
Exit Shopping Cart
People decided that, at confession, they would say 'fell from the bridge' instead of 'adultery'. They did so because their old priest got fed up of hearing them saying 'adultery'. Knowing nothing of the change, the priest was then happy that nobody committed adultery any more.


Things went fine for weeks, but then the priest became suspicious. He began to get fed up again, this time, with 'fell from the bridge'.


"People fell from the bridge. Why?" He took his motorbike and off to check the bridge for himself. Well, the old bridge looked okay. He was a little confused when suddenly a village councilor arrived.


"Many people fell from this bridge. It seems quite old. Better raise a repair issue in your upcoming councilors meeting" said the priest.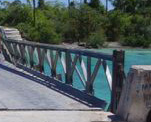 The councilor laughed for he knew why the bridge had caused concerned. He decided to explain everything, when…


The priest added, "I couldn't understand why you would laugh when people got hurt. Your wife fell from here two times last week and your daughter fell three times. Hope you don't laugh but do something to this old bridge!"
Categories: Funny Stories
/